Whether you are wanting to play 18 holes around Pebble Beach with your friends or just wanting 30 minutes practice on your own, with the GCQuad Simulator anything is possible!
You choose your preferred format - Stableford, Medal, Matchplay or Skins
You choose the course conditions - soft, normal or firm
You choose the weather conditions - no wind, gentle wind or strong wind

Golf Simulation & Room Hire To Play a Famous Golf Course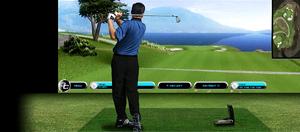 This is a perfect solution to spend those winter days when it's cold and dark outside. You can now hire my purpose built studio and by using the GCQuad with the simulation software you can play as many holes as you can with your friends around a choice of 19 famous courses from around the world, just like you would if you were on the golf course! Maximum 4 people.



Room Hire for Private Practice Session - 30 Minutes
An ideal chance to hone your skills in the comfort of indoors using the GCQuad Launch Monitor & Simulator Practice Range! Just like you would on the practice ground outside, you can hit balls with any club to various targets.
£10

Room Hire for Private Practice Session - 15 Minutes
If you would like a warm up before you tee off then this session is perfect. 15 minutes on the simulator practice ground trying out different ball flights..... fade, draw, low punch etc. You can then step onto the 1st tee fully warmed up and raring to go!
Ideal to book before teeing off in the club competition without the hassle of picking up golf balls!!
£5
Click here to enquire or book a session.
Simulator Membership Package
To help you get better value out of the simulator studio, I have created 4 packages to give you access to the studio all year round at a lower cost per hour:
Bronze = £99 per year, 1 hour per month
Silver = £159 per year, 2 hours per month
Gold = £199 per year, 3 hours per month
Platinum = £299 per year, 5 hours per month
This deal is limited to 10 people, so if you are interested, please don't hesitate to get in touch asap, as it will be alocated on a first come, first served basis.
Click here to register your interest.